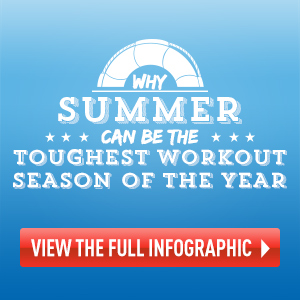 Take on the Toughest Fitness Challenge of the Season: Summer
We asked, and you told us: It's HARD to maintain your fitness routine in the summer.
It's no wonder. Changing schedules and all those cookouts, picnics, vacations, weddings, reunions and other get-togethers can sidetrack your plans to work out during the most "revealing" months of the year. Make this your healthiest summer ever, and check out the top five "summer bummers" that could disrupt your plans and our tips to avoid them!
Summer Bummer #1:  Schedules, Schmedules


Whether it's because the kids are on summer break, teens are working summer jobs, or because coworkers get to take "Summer Fridays," it's safe to say that nearly everyone's routine shifts in summer. Our member survey results showed that 27% of our 18-25 year-old members couldn't find time to hit the gym because of work and school obligations.

How to avoid this summer bummer: Make a schedule on Sundays and stick to it! When you know that you'll have to pick up family at the airport, work later than usual or attend a BBQ early on a Saturday, you need to be flexible about fitting in fitness. Whether that calls for an early-morning workout or a mid-day Group X® class, writing down your weekly schedule the old-fashioned way – in ink – can help you plan and follow through on your commitment. You can download a handy monthly workout plan from the 24 Hour Fitness website.

Summer Bummer #2: Lazy Sundays, Every Day


Surprisingly, 16% of women and 11% of men responded that "laziness" was a key factor in less frequent visits to the gym.

How to avoid it: Keep your motivation front and center – stick an image that represents your goal or the reason behind it – a sandy beach, a special dress, your kids – where you can see it every day. Your fridge, your dashboard, and even your desk are good places to remind yourself why you should lace up those sneakers!

Summer Bummer #3: Family Time Takes Away from "You" Time


Nearly a quarter of moms and dads in our survey responded that family priorities often force them to put their workouts on the back burner during summer.

How to avoid it: There's no need for you to skip exercise just because your kids aren't in Summer Camp. Play outdoor games together, or come in for a workout and check out Kids Club – and next time you're tempted to skip the gym for an ice-cream trip with the kids, remind yourself that one of the most important things you can do for your children is to set an example of how to lead a healthy, balanced lifestyle.  Check out more Kids Club amenities.

Summer Bummer #4: Travel Can Derail Your Routine


Even if your destination is the beach, our survey results showed that summer trips can undermine fitness goals for everyone from gym rats (members who visit 9+ times per month) to older adults (27% of 50+ members).

How to avoid it: When you're travelling, opt for walking or bike tours of new cities – it's a great way to see a whole city in just a few hours! If your trip is somewhere in the US, don't forget we have over 400 clubs and you can likely find one to visit. See our Club Finder page to see if there's a 24 Hour Fitness club at your destination!

 

Summer Bummer #5: It's a Desert Out There


Members in desert cities like Las Vegas, Los Angeles, and Dallas commented that they're less likely to exercise outdoors in the summer months. (Miami's steamy summers don't seem to be a problem for our members there.)

How to avoid it: If you're feeling the heat too, bring your workout indoors! Many of our gyms have pools to help you stay cool. And a workout is just what you need to feel great about donning a pair of shorts or a tank top when you have to head back out into the heat!