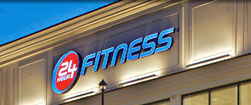 New Clubs Coming Soon
Find the location that's near you.
We will or may have just moved into your neighborhood! We're constantly expanding our nationwide locations. Take a moment to learn about the new 24 Hour Fitness club locations in your area.
New club listings
If there are new 24 Hour Fitness locations in your neighborhood, find out how you can join today.
California
Downtown Long Beach
1 World Trade Center 110
Long Beach, CA 90831
(888) 243-5002
Navajo
8876 Navajo Road
San Diego, CA 92119
(888) 243-5002
Ventura
3350 Telegraph Road
Ventura, CA 93003
(888) 243-5002
San Juan Capistrano
27124 Calle Arroyo
San Juan Capistrano, CA 92675
(888) 243-5002
Florida
Tamarac
4017 West Commercial Blvd.
Tamarac, FL 33319-3303
(888) 243-5002
Miami Gardens
19371 NW 27th Avenue
Miami Gardens, FL 33056
(888) 243-5002
Homestead
3314 NE 7th Street
Homestead, FL 33033-4502
(888) 243-5002
New York
Massapequa
941 Carmans Road
Massapequa, NY 11758
(888) 243-5002
Texas
McKinney
1601 N. Hardin Blvd
McKinney, TX 75071-3278
(888) 243-5002
Washington
Panther Lake
20600 108th Avenue SE
Kent, WA 98031
(888) 243-5002
Start a career, and make fitness a way of life
24 Hour Fitness seeks to make fitness a way of life for everyone. Our team members are the key to fulfilling that mission. Their dedication sets the example, their drive yields results, and their passion inspires change.
If you're looking for an opportunity to incorporate your personal health, wellness, and fitness values into your professional life, look no further than 24 Hour Fitness.
Check out our Careers section for opportunities in your area. Search for a position here
Adobe Flash Player required to view this content



Adobe Flash Player required to view this content



Adobe Flash Player required to view this content