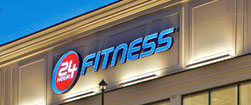 Magic Johnson Signature Clubs
Magic Johnson Signature Clubs are primarily located in California, with additional locations in Texas. Click on the club for more information including a full list of amenities and membership information.
Magic Johnson Signature Clubs
Altadena Magic Johnson Spor
(Altadena, CA)
Hawthorne Magic Johnson Sport
(Hawthorne, CA)
College Grove Magic Johnson Sport
(San Diego, CA)
Arlington Magic Johnson Sport
(Arlington, TX)
La Cienega Magic Johnson Sport
(Los Angeles, CA)
San Leandro Magic Johnson Sport
(San Leandro, CA)
Carson Magic Johnson Sport
(Carson, CA)
Oakland Magic Johnson Sport
(Oakland, CA)
Santa Fe Springs Magic Johnson Sport
(Santa Fe Springs, CA )
Compton Gateway Magic Johnson Sport
(Compton, CA)
Richmond Magic Johnson Sport
(Richmond, CA)
Sherman Oaks Magic Johnson Sport
(Sherman Oaks, CA)
Magic: A Short Biography
There's a reason most people think of Earvin Johnson as "Magic": wherever he has gone, his teams have won championships. Magic won five NBA championships with the Los Angeles Lakers. He also won three NBA MVP awards, took home a gold medal at the 1992 Olympic Games, and played in 12 NBA All-Star Games.
But it was Magic's vision of building communities and making health and fitness a way of life for everyone that convinced 24 Hour Fitness to partner with him. Together, we've launched the 24 Hour Fitness Magic Johnson Signature Clubs. This partnership has created a "dream team" in the health and fitness industry.

Magic Johnson by the Numbers
First player selected in the 1979 NBA draft
Tallest dedicated point guard in NBA history
Youngest player to record a triple-double in the playoffs
Three-time MVP
17,707 career points
6,559 career rebounds
10,141 career assists
Magic's Community Involvement
Magic is founder and chairman of the Magic Johnson Foundation (MJF), which addresses the critical issues of health, education, and social needs of inner-city youth. The organization empowers minority communities by advancing and supporting worthy charitable organizations. Magic also provides the inspiration and momentum for the Magic Johnson Foundation Taylor Michaels Scholarship Program, which provides college scholarships, mentoring, and internships. Through the program, he has sent more than 225 students to colleges across the country.