Make Every Day Game Day
Treat every day like it's game day with 24 Hour Fitness. As a proud partner of the Denver Broncos, we've teamed up to help you elevate your performance – inside our gyms, on the go and through fun fitness events for Broncos fans of all ages. Come explore our 30 different Denver area locations and find everything you need to achieve your results, your way, from all-included studio classes, to personal and group training, Kids' Club and more. Work your body at our Outdoor Gym, right outside Mile High Stadium, or look for events and online challenges created with the Denver Broncos especially for fans like you.
Outdoor Gym for You, from Us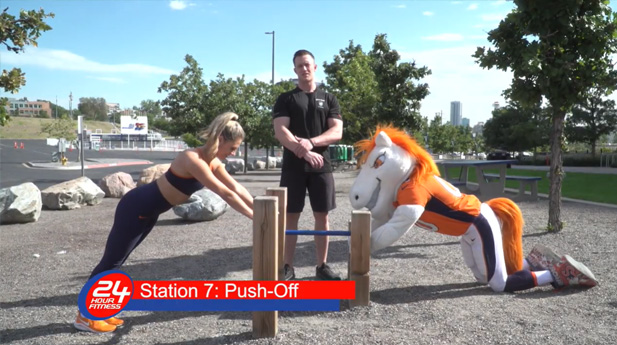 As a founding partner of Broncos Fit, we're committed to helping Denver Broncos fans make every day game day to unleash their best results. Our first move was the creation of an Outdoor Gym, now accessible to the entire community at Mile High Stadium.
The workout circuit was designed by our movement experts to improve mobility, strength and cardiovascular endurance. As you move from station to station, you'll take on a range of movement patterns that work your upper body, core and legs. Complete the entire circuit for a full-body workout that you can make harder as you get stronger – to bring your best game every time. Check out the video for a demonstration.
Broncos Fit Workout Series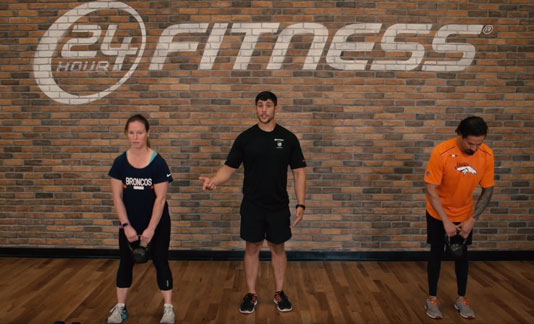 Whether you're working out in one of our 30 Colorado 24 Hour Fitness locations or training at home, our 5-part Broncos FIT Workout Series will take you through different styles of exercises to give your entire body a workout. Get in your game day mindset and try the Every Minute, On the Minute workout to increase your stamina while weight training. Tabatas guides you through high intensity training that will help you get a full day's work in just a few minutes. Click the links below to see each week's workout.
Week 1:

Every Minute, On the Minute

Week 2:

Ladders

Week 3:

Complexes

Week 4:

Circuit Training

Week 5:

Tabatas
Upcoming Denver Broncos and 24 Hour Fitness Events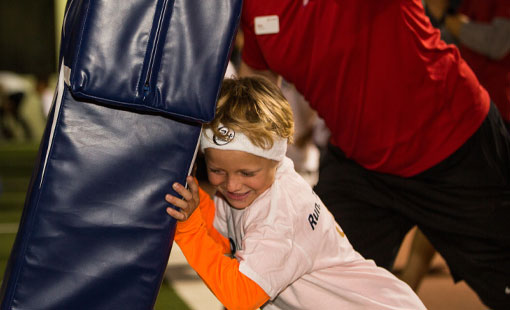 Broncos Fit 3rd Annual 7K & Expo
Denver, CO | September 1, 2019
Football fans, running enthusiasts, anyone and everyone, get your game face on and join the Denver Broncos for this unforgettable 7K run that finishes at the 50-yard line at Broncos Stadium at Mile High. Pose for a photo opp with the Denver Broncos Super Bowl Trophies. Meet Broncos players, cheerleaders and Miles the Mascot, and commemorate your moment of glory with an exclusive finishers' medal and t-shirt. Plus, try your skills on the 24 Hour Fitness rock climbing wall and drop by our booth for giveaways! 24 Hour Fitness members, save $5 off race registration code with 24HR19. Find your hustle and sign up now!
Past Events
We believe in being the best partner we can be—to the Denver Broncos and all of Broncos Country. Here are some of the fun ways we've helped Denver football and fitness fans bring their best to every play and every day.