Our Gyms. Your Standards.
At 24 Hour Fitness, we know that only you can define you. So come express yourself in our studio classes, challenge yourself in our Turf Zone, or restore yourself in our steam room and sauna – the choice is up to you. With so much included in a 24 Hour Fitness membership, you can be the self you want, doing what you love.
Dues as low as
$
29
99
per month*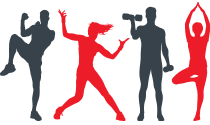 *On select memberships. Pay initiation fee plus first and last months' dues. Restrictions and other fees may apply.
*Pay initiation fee plus first and last months' dues. Initiation fee ranges between $49.99-$89.99, and monthly dues range between $29.99-$99.99 per month, depending on club location and type. Pay $49.99 Annual Fee once during first year of enrollment and annually thereafter. Offer available online or in club. Offer applies to select All-Club Commitment memberships only. Excludes One-Club, Basic, Add-On and Limited Term Prepaid memberships. One year commitment required for Commitment memberships. Selected club of enrollment must be within 50 miles of purchaser's residence. All-Club access depends on membership purchased. All-Club Sport memberships do not include access to Super/Ultra-Sport clubs. All-Club Super-Sport memberships do not include access to Ultra-Sport clubs. Taxes may apply. Not valid for current members. Dues must be paid by pre-authorized payment (eft). Must be at least 18 years old or 12 with parent. No other discounts with this offer. Incentives may be offered for other memberships. Facilities and amenities vary per location. Kids' Club, Personal/Group Training, specialty classes and class reservations are available for an additional fee. Not all clubs open 24 hours every day. See club for details. Excludes select Hawaii, San Francisco Bay Area and Monterey Bay Area clubs. Offer may expire without prior notice. © 2018 24 Hour Fitness USA, Inc. Texas Health Studio #080501. Florida Registration Numbers HS4505, HS4504, HS7025, HS7004, HS7479, HS7621, HS7436, HS7746, HS7663, HS7776, HS7805, HS12038, HS11951, HS12546, HS12661.
Close
400+ locations
in 13 states and growing.