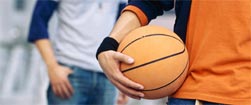 Youth Basketball Programs
Our mission is to provide young athletes year-round access to basketball coaches and trainers; skill development and enhancement programs; and top rated facilities which will help provide the necessary tools to become better players and live healthier on and off the court. The program is open to both members and non members. Choose the program that is right for you. Click a link to learn more:

core programs | group programs
core programs

Private Training

Receive one-on-one attention to improve individual skills. Each workout is customized to attack the individual's specific needs. Form and mechanics, weak-hand training and position specific drills are the cornerstones of this training. Attend prior to advancing to Semi-Private training.
Semi-Private Training

Participants will receive a player assessment in addition to individual attention through a series of offense and defensive skill work that caters to the need of each player. This workout will focus on each player's unique performance goals and emphasize the following:

How to become a scorer
Position specific attack moves (Perimeter and Post)
Defensive concepts and fundamentals
Screening Series
Weak-hand work (ball handling and passing)
Spacing and timing
Game like situations through competitions
Semi-Private training sessions will have a maximum of four (4) students.
Shooter's Workshop (1 Hour)

Shooter's Workshop is geared toward student-athletes serious about improving their shooting. Through repetition and key words that improve rhythm and range, there is an enormous focus on form and mechanics in addition to the science of footwork. Participants learn the breakthrough mental techniques and goal setting that enhances confidence in addition to building muscle memory. This specific training will have a maximum of four (4) student-athletes in one hour.
find out more
For general inquiry call 866.670.7753
Coach information and bios
Locations and pricing