Unforgettable events, free to all*
With our warm and welcoming GX24® community, our studio classes always feel like a party, but we also like to mix things up with exciting all-access events that are open to everyone. Check the GX24 schedule at your local club, then bring your squad and join the fun at these free fitness class parties led by the best instructors around.
Fitness class parties
Yoga SOULstice Party
Thursday, June 21
*select locations
Celebrate International Yoga Day with us! Bring friends to share a moment of harmony with free yoga classes at select clubs. Uncover your strength, connect with our community and restore your inner happiness – mind, body and soul.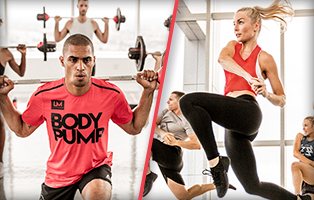 Summer Smash – featuring BODYPUMP® & BODYCOMBAT®
Monday, July 16 - Sunday, July 22
*select locations
Beat the heat and focus on fitness with the one-two punch of LES MILLS BODYPUMP® and BODYCOMBAT®. Bring friends free all week long to experience the newest release of both popular classes. Whether you prefer to sculpt and tone your body through the powerful reps of BODYPUMP or unleash your warrior through the martial arts-inspired BODYCOMBAT, you'll uncover new moves, new music and unshakeable strength, inside and out. Classes vary by club.
More details coming soon. Can't wait? Check out a class.
Zumba® SUPER Party
Friday, August 3 - Saturday, August 4
*select locations
Just can't get enough of Zumba®? Make this your week to go all out with free guest access to EVERY Zumba class. Bring friends and experience the dance-your-heart-out fun of original Zumba, join the never-gets-old crowd of Zumba Gold®, or sync up and take on the high-intensity intervals of STRONG by Zumba™. Plus, don't forget to indulge your inner mermaid with Aqua Zumba® in the pool. Party on! Classes vary by club.
More details coming soon. Can't wait? Check out a class.