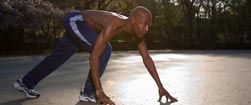 Add Family: Member
Enjoy quality family time: Work out together.
It's so much easier - and more fun - to stick to a workout program when you're doing it as a family. Everyone in your family can benefit from a shared focus on family fitness. You'll spend more time being active together, and you'll have the support of those closest to you as you work toward your own fitness goals.
Add Family Members
It's safe, secure, and easy to add family members to your membership. Make 24 Hour Fitness a part of your family fitness. You can choose from three simple ways to add family members to your membership.
Register Online
With our online process you can take your time exploring our website to make sure your family members understand everything that 24 Hour Fitness has to offer. Then, when you're ready to add members, you can complete the process in minutes.
When you're finished, you can print out membership agreements for your family members and start working out together right away.
Just enter your membership ID, ZIP code, and birthday below to get started:
Contact us by Phone
Prefer to have someone talk you through the process of adding a family member? Just pick up a phone!
To add your family members over the phone, call us toll-free at 1-888-243-5002. For member service related calls, please call 1-800-432-6348 (9-5 PST, Monday thru Friday).
Come in to your Nearest Club
Sometimes there's no substitute for doing business face-to-face. Feel free to add family members in person at any of our club locations. You can even arrange for your family members to get a free tour of the facility before they join.
Once your family members join 24 Hour Fitness, you'll all be able to motivate and challenge each other to reach new levels of fitness. Share rides to the gym. Work out together in our high-energy group exercise classes. And keep your household healthier.
Adobe Flash Player required to view this content