Centennial Super Sport Gym in Highlands Ranch, CO
Our Highlands Ranch gym will quickly go from a workout facility to your daily retreat. At 24 Hour Fitness, we welcome members of every workout skill level. We have everyone from serious bodybuilders to amateur lifters visit our gym. Furnished with premium gym equipment and boasting endless studio classes, you will quickly realize that you may not be able to experience everything we have to offer in your lifetime.
We encourage a no-judgement policy—once you join 24 Hour Fitness, we treat you like family! Our staff is ready to provide you with any help or insight that you may need.
If you're searching for Highlands Ranch gyms, choose 24 Hour Fitness!
See what amenities this gym has to offer
Group Exercise
Full Sized Basketball Court
Indoor Lap Pool
Free Weights
Cardio Equipment
Steam Room
Sauna
Pro Shop *
Personal Viewing Screens
Free WiFi
Kids' Club *
Towel Service
Strength Machines
Training Club 24 - IGNITE *
TRX Suspension Training
Racquetball Court
Personal Training *
Circuit Training
Whirlpool
Group Cycling
Personal Training Area
*Additional fees apply
New Membership Offer
$0 initiation fee
on select All-Club Monthly Payment memberships*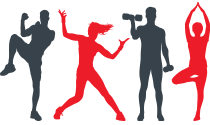 *On select memberships. Pay first and last months' dues. Restrictions and other fees may apply
*Pay first and last months' dues. Initiation fee is waived. Membership dues range between $29.99 and $99.99 per month, depending on club location and type. Pay $49.99 Annual Fee once during first year of enrollment and annually thereafter. Applies to select All-Club Basic and Commitment Monthly Payment memberships only. One-year commitment required for Commitment memberships. No additional refunds or credits if initiation fee reduced to $0 with this offer. Excludes All-Club 24-Month Commitment, One-Club, Friends & Family Add-On, and Limited-Term Prepaid memberships. Selected club of enrollment must be within 50 miles of purchaser's residence. All-Club access depends on membership purchased: All-Club Sport memberships do not include access to Super-Sport or Ultra-Sport clubs; All-Club Super-Sport memberships do not include access to Ultra-Sport clubs. Kids' Club, Group/Personal Training, specialty classes and class reservations are available for an additional fee. Taxes may apply. Not valid for current members. Dues must be paid by preauthorized payment (EFT). Must be at least 18 years old or 12 with parent. No other discounts with this offer. Incentives may be offered for other memberships. Facilities and amenities may vary per location. Not all clubs open 24 hours every day. See club for details. Offer expires at 11:59pm (PT) on 9/27/2018. © 2018 24 Hour Fitness USA, Inc. Texas Health Studio #080501. Florida Registration Numbers HS4505, HS4504, HS7025, HS7004, HS7479, HS7621, HS7436, HS7746, HS7663, HS7776, HS7805, HS12038, HS11951, HS12546, HS12661, HS12874.
Close