Millbrae Super-Sport Gym
Step into our spacious Millbrae gym and you'll feel the difference. A buzz of energy and inspiration. A community ready to welcome you. And thousands of square feet of spectacular workout space, complete with premium gym equipment, unmatched amenities and some of the best studio classes around Millbrae. Come in and discover all you imagined and more, under one gym membership and one enormous roof.

At 24 Hour Fitness, we see our clubs as your ultimate daily retreat, where motivation and comradery are simply part of your gym membership.
See what amenities this gym has to offer
Steam Room
Sauna
Personal Training *
Circuit Training
Training Club 24 - IGNITE *
Cardio Equipment
Towel Service
Personal Viewing Screens
Pro Shop *
Free Weights
Group Cycling
Free WiFi
Group Exercise
Personal Training Area
Kids' Club *
TRX Suspension Training
*Additional fees apply
Membership Special
First Month Free
Plus, get 50% off initiation fee
on select All-Club Monthly Payment memberships*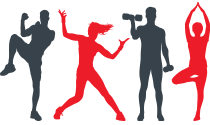 *On select memberships. Restrictions and other fees may apply. Offer expires 11/27/2017.
*Pay initiation fee (up to $49.99 after discount) and last month?s dues. First month?s dues are waived. Membership dues range between $29.99 and $99.99 per month, depending on club location and type. Pay $49.99 Annual Fee once during first year of enrollment and annually thereafter. Offer available online or in club. Applies to select All-Club Basic & Commitment Monthly Payment memberships only. One-year commitment required for Commitment memberships. No additional refunds or credits if initiation fee reduced to $0 with this offer. Excludes All-Club 24-Month Commitment, One-Club, Friends & Family Add-On, and Limited-Term Prepaid memberships. Selected club of enrollment must be within 50 miles of purchaser?s residence. All-Club access depends on membership purchased: All-Club Sport memberships do not include access to Super-Sport or Ultra-Sport clubs; All-Club Super-Sport memberships do not include access to Ultra-Sport clubs. Kids? Club, Group/Personal Training, specialty classes and class reservations are available for an additional fee. Taxes may apply. Not valid for current members. Dues must be paid by preauthorized payment (EFT). Must be at least 18 years old or 12 with parent. No other discounts with this offer. Incentives may be offered for other memberships. Facilities and amenities may vary per location. Not all clubs open 24 hours every day. See club for details. Offer expires at 11:59pm (PT) on 11/27/2017. © 2017 24 Hour Fitness USA, Inc. Texas Health Studio #080501. Florida Registration Numbers HS4505, HS4504, HS7025, HS7004, HS7479, HS7621, HS7436, HS7746, HS7663, HS7776, HS7805, HS12038, HS11951, HS12546.
Close